No one cares about your marketing.
It's 2021, and things are changing.

Cars are starting to drive themselves, augmented reality is introducing innovation – as well as Pokemon – into our homes, and Japan has plans to build a robotic moon base by the end of the year. With everything changing so fast, it shouldn't surprise you that the way we talk about, market and promote our businesses is changing too.
Here's the bitter truth – no one cares about your marketing. The evidence for this is everywhere.
Consumers don't like hearing your adverts so they stream music. They don't like seeing commercials, so they get Netflix. And let's not even address the adblocker you're probably using right now. We as marketers and businesses are losing control over our marketing materials, and as a result, traditional marketing strategies are losing power.
It's clearly time for a shift in how we think. Maybe we shouldn't be marketing at all, at least how it currently stands.
This radical notion is something we at Engagement Factory have been proposing for a while now, and as consumers continue to get more power over what content they view, it's starting to become a fact.
Marketing shouldn't be a battle over control or power with customers – it's about building relationships with them, and you should treat it like that. No sane person would hang around another who was obsessed with control and power, and likewise, no consumer will begin a relationship with a company that takes the same approach.
However, the problem comes in where we as businesses know little to nothing about the people we're trying to build a relationship with. The "but we hardly know each other" line is never more valid and prominent in the world of digital marketing, and the results are often too similar in professional and social relationships.
Too many businesses have excel sheets of data detailing every piece of information that makes up the person in question, but continue to address them with a one-size-fits-all robotic approach. Your company doesn't need more information – your company needs insights. Data, processes and analytic tools are still important, but they're only insightful so long as they're used to create a human connection.
We describe this process of taking data and analytics to inform our marketing decisions for the purpose of relationship building as 'programmatic marketing'. Think of it as forging human connections in the digital age without the creepy effects of over-personalisation.
Here's how it works.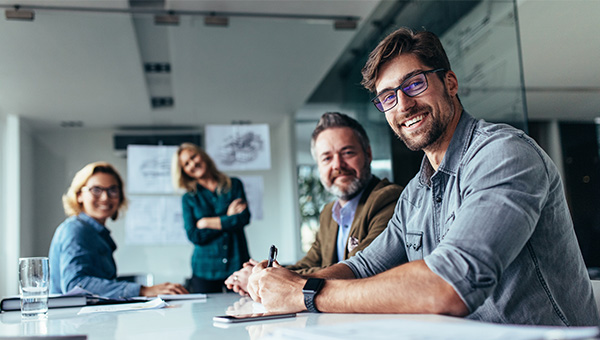 Tell a story
Storytelling is in our genes. It's how we taught others about dangerous predators, tempting vices and the moral fabric that has kept our society going. Essentially, storytelling is the best way to bridge the gap between data and those who need to learn something from it.
Today, the channels and mediums have changed, but the soul of the narrative has remained. As marketers, we should also be storytellers. It's our responsibility to tell a story to the audience and use data to back up our narrative.
Personal stories work the best. That's why the gaming industry has earned more than the film, book and music industry combined for the past 10 years, because each game is a personal experience to the player, rather than just content they consume. So how do you make your story a personalized experience for thousands of leads? That's exactly what programmatic marketing does.
By tailoring a narrative around the needs and wants of each specific audience, programmatic marketing manages the customer journey to a point where the customer and the business are an ideal match. Your business is not the only choice, but the preferred choice of the customer as it fits into their narrative.
Align your tools towards experience, not numbers
Channel-flooding and traditional campaign-focused advertising is a quick way to alienate and teach your customers to hate you – and for good reason. If you're not prepared to speak your customer's language, why should they be prepared to pay you?
How the customer experiences your brand is relative to how the customer contributes to your bottom line – and the best part is using programmatic marketing works no matter your industry, size or budget.
Restructuring your tools and processes can be challenging, but earning the trust back from your customers is even more so. Thus, restructuring is a necessary step towards creating an environment where the customer experience is not a tacked-on feature, but a priority. By changing your focus and repurposing your company's tools, you'll not only be able to create a personalised narrative experience for your current customers, but for your future customers as well.
Listen, measure and react
Relationships are about work and the same holds true for relationship-marketing.
Listening to your customers is important but there's a problem: many customers don't exactly mean what they say. As Steve Jobs said, "people don't know what they want until you show it to them", and the best way to find out what they want is through measuring their experience.
Today, we have thousands of metrics and data to point us in the right direction when looking to remedy or optimise our customer approach. Finding those points where customers lose interest, stray from an expected outcome or simply fall off the radar is what will help you create the best kind of engagement without damaging the narrative. The second your customers are able to see the numbers, is the second where the narrative dissolves.
Steve Jobs also said, "Get closer than ever to your customers. So close that you tell them what they need before they realise it themselves."With programmatic marketing, this is now more achievable than ever before.
Learn more
So maybe we, as marketers, have been thinking about marketing the wrong way for a long time.
It's time to stop marketing, and start engaging.
As we head into 2021 with new perspectives, thoughts and goals, I challenge you to take another look at how you market your company and how you approach your prospective customers. I think you'd be pleasantly surprised at the results.