Building a persona for success.
Signify (formerly Philips Lighting) is a major name in lighting solutions that has attained over 125 years of experience in lighting solutions for homes and businesses alike. However, the world has changed, and the demand for high-powered lighting solutions is only matched by its effective use.
It is in this spirit that Signify has developed a tailor-made software application known as Interact Office. Interact Office turns existing lighting solutions into points of data to connect more devices, places and people through lighting sensors. This data can be shared with existing management systems, offering new insight into how buildings, businesses, and employees operate, improving how we work and live. For large enterprises and organisations, this results in saving thousands of dollars every year by reducing energy and operating costs while supporting employee performance and comfort through better space utilization.
Interact Office would clearly provide a competitive edge for any corporate real estate business. However, while Signify had already solidified their position as a trusted lighting solution expert, they were not acknowledged as a systems and data provider. For Interact Office to be successful, Signify needed to be seen as an absolute authority on the subject to attract a new client base.
That's when they approached Engagement Factory.
Deliverables
Buyer persona research
Responsive emails
Landing pages
Full-funnel Digital Campaign
Data-Driven Insights
Progressive profiling forms
Technology
Oracle marketing cloud
01 / 05
One New Direction, Four New Challenges.
Engagement Factory identified that with the advent of Interact Office, Signify was stepping into a new business: the world of corporate real estate. This meant that Engagement Factory's objectives were four-fold:
Setup a full-funnel digital campaign including acquisition, engagement lead creation and sales.
Target and develop a brand-new audience.
Introduce a new IoT product to the market while positioning a business from a different industry as an authority on the topic.
Educate customers and generate leads and sales.
The market that suited Interact Office was the niche target group of Fortune 500 Corporate Real Estate Managers – however, this demanded in-depth research. To truly understand this market, Engagement Factory needed to discover their collective pain points, success factors, motivations and challenges. They needed to learn what the day in the life of the head of a fortune 500 corporate real estate company entailed. To this end, Engagement Factory created Arthur - a buyer persona based on extensive research on the top corporate real estate leaders around the world.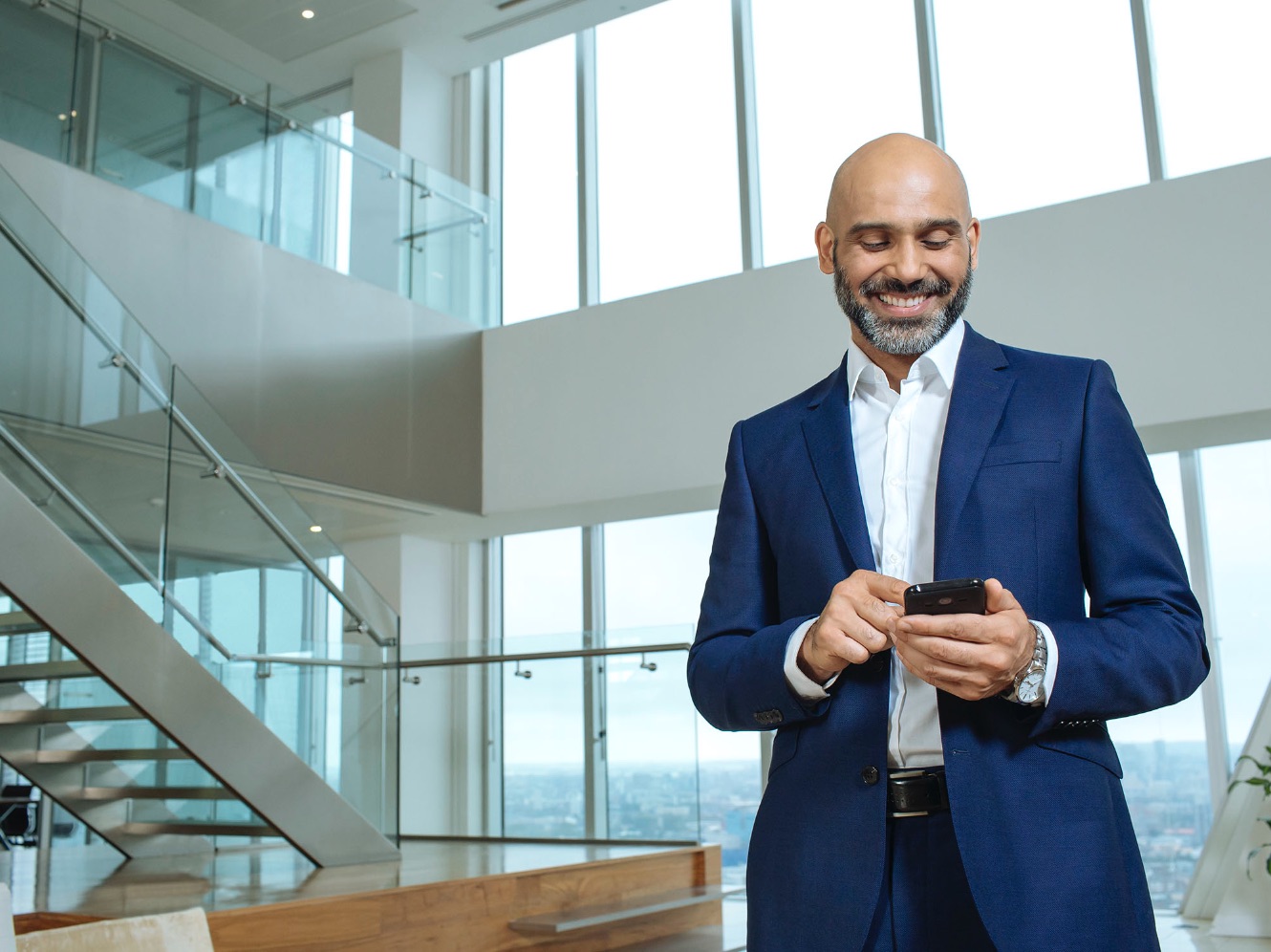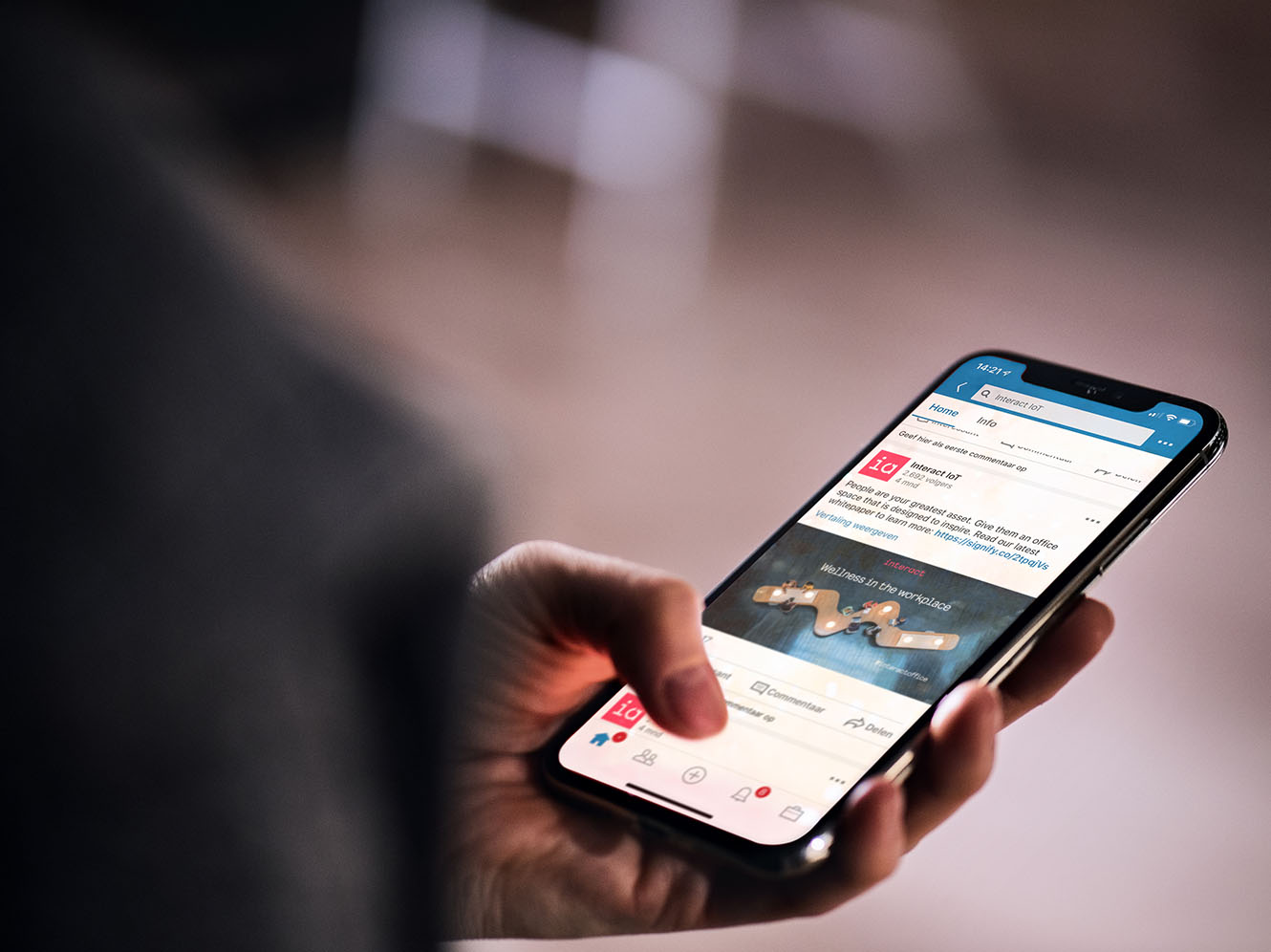 02 / 05
Meet Arthur.
Arthur outlines the ideal customer for Interact Office. He holds the position of the head of a corporate real estate organisation and is relied upon to find the ideal balance between optimum productivity and operational expenditure. For Arthur's clients, too little space could hinder productivity while having too much unused space quickly racks up operational expenses.

Arthur's job is to run his property portfolio as cost efficiently as possible, but his success rests on his ability to make people feel productive and well in those spaces. As Interact Office is based on optimising work-spaces informed by solid data, Arthur fit the customer description perfectly.

By taking the time to understand Signify's product on a fundamental level, Engagement Factory was able to identify the customer segment that would provide maximum value and longevity. Arthur would prove invaluable in providing insight, direction and perceived value for the content of the campaign moving forward.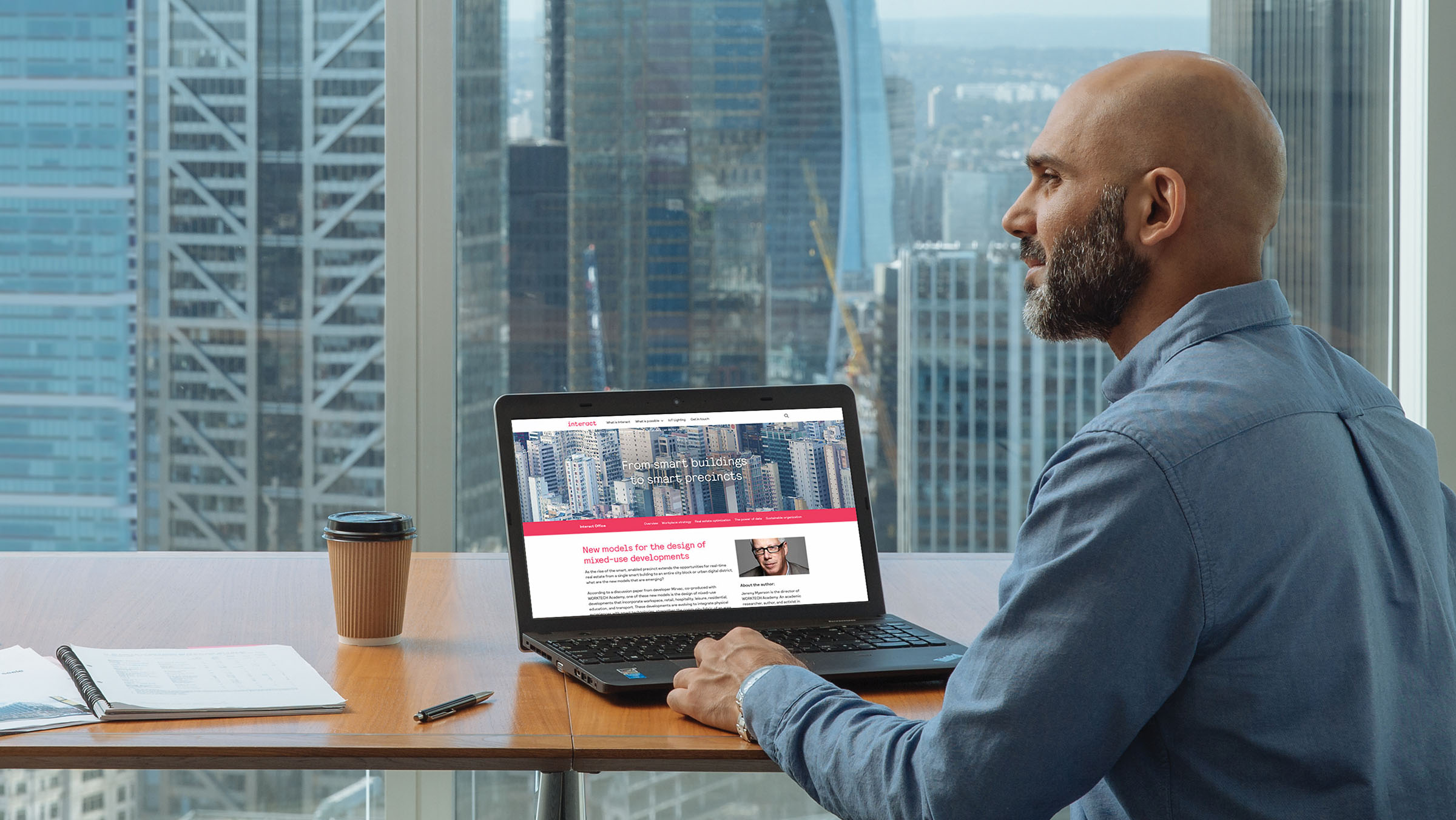 03
/ 05
Generating Authority.
To reach Arthur and corporate real estate managers like him, Engagement Factory developed a campaign strategy and flow built to facilitate a fully automated digital customer journey. Each step of the flow aimed to educate the audience and facilitate them with the right information to help them make the right decisions and move forward.

From these efforts a vast array of videos, social media, blogs, dynamic landing pages and responsive emails were aligned around four central themes that Interact Office strived in:
Alternative workplace strategy
Real estate optimisation
The power of data
Creating a sustainable organisation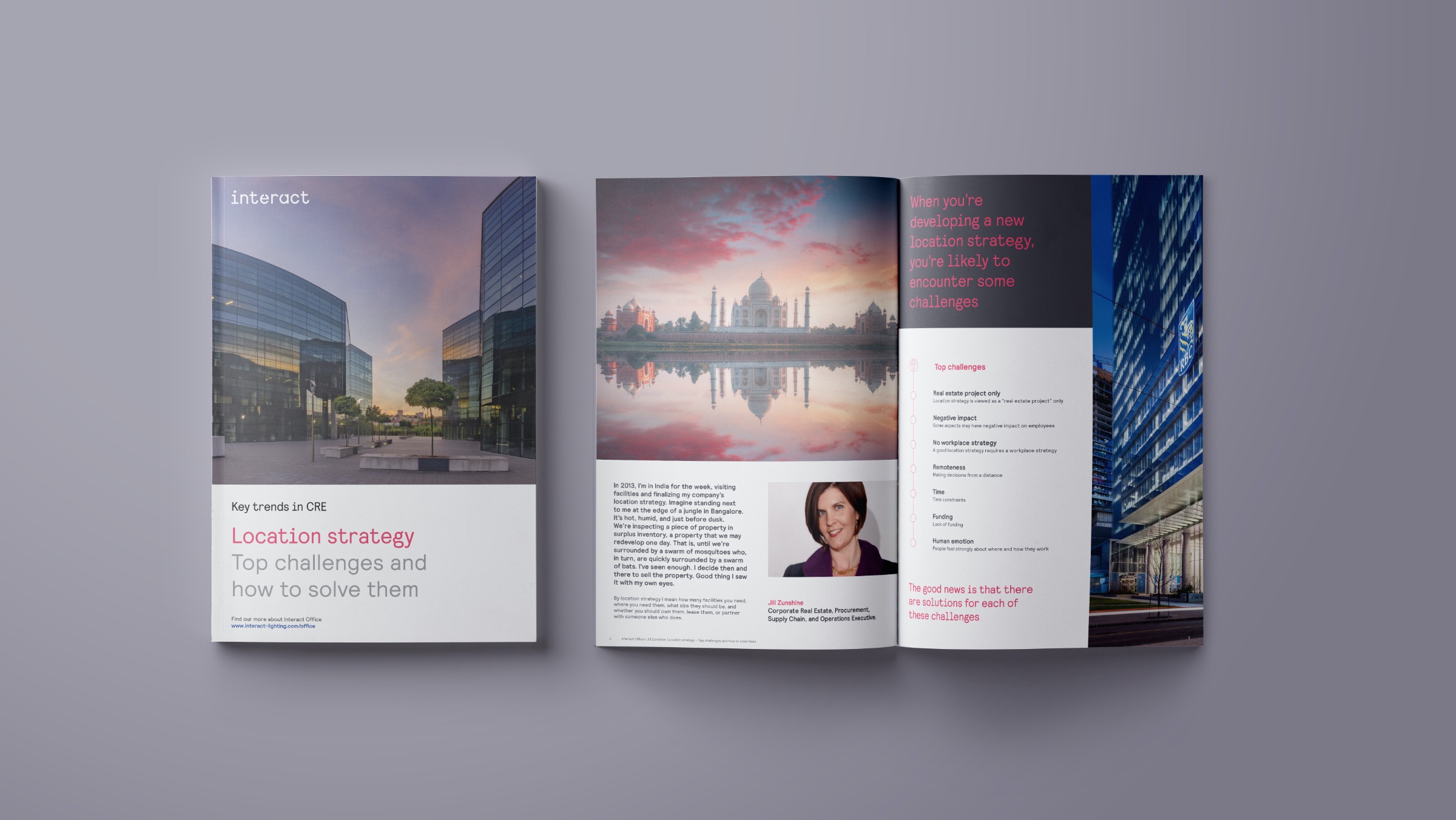 04 / 05
A Journey of Learning.
Engagement Factory developed content around these four themes and mapped out a complete customer journey for Signify. To achieve this, Engagement Factory approached several industry-leading innovators and specialists to contribute thought pieces as content for the campaign. These pieces provided a glimpse into the life of corporate real estate professionals and how Interact Office would provide value on a fundamental level for customers like Arthur. Once this insight was gathered, Engagement Factory's team of content creators refined the input into 85 separate assets to facilitate the customer journey and generate authority for Signify.

The customer journey consisted of generating awareness and leads through a combination of paid advertising, owned contacts, and specialised SEO practices. These leads were then directed to a dynamic microsite developed by Engagement Factory to respond to each lead's specific interest in the aforementioned themes. From there, the leads were filtered through a four-part education and engagement-based email string to further identify quality leads for Interact Office.

Through a mix of sophisticated marketing automation technology and human connection, Engagement Factory was able to rapidly establish Signify as an expert around the four themes for their ideal customers.
05 / 05
A Future of Value.
By focusing on what was relevant to Arthur and personas similar to him, Signify was empowered to begin a dialogue with their new target market as a respected authority. Soon, they were attracting fortune 500 personas from the corporate real estate industry, and generating interest based on their online presence alone. Within 24 hours Signify managed to begin the nurturing prospect for their first fortune 500 lead.

Today, Engagement Factory's campaign is used as an internal gold standard for marketing and engagement strategies across Signify's organisation. Interact Office has since solidified itself as a central product for Signify, enshrining the values, vision and potential to provide a sustainable, employee-friendly business environment of the future for all.