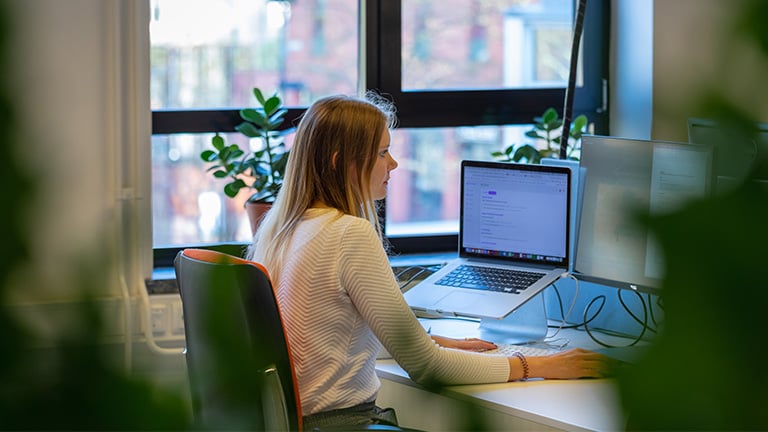 Engagement Factory/Blend360 is a fast-growing European marketing science and analytics company. We offer you the opportunity to work in an innovative scale-up culture where everything you do matters. With world-class capabilities, solutions, and an incredible service, Engagement Factory/Blend360 strives to help large EMEA B2B and B2C companies solve the puzzle of data-driven business acceleration.
Do you love to solve complex problems and deliver results? You fit in!
You are an excellent communicator
Senior Data Scientists at Engagement Factory/Blend360 work with business leaders to solve our clients' business challenges. We work with clients in marketing, revenue management, customer service, inventory management, and many other aspects of modern business. Our Senior Data Scientists have the acumen to apply Data Science to many different business models and situations. We expect the Senior Data Scientist to be an excellent communicator with the ability to describe complex concepts clearly and concisely. You should be able to work independently in gathering requirements, developing roadmaps, and delivering results.
You have the technical know-how
You have a broad knowledge of a variety of data and mathematical solutions. Your work includes statistical analyses, predictive modeling, machine learning, and experimental design. You evaluate different sources of data, discover patterns hidden within raw data, create insightful variables, and develop competing models with different machine learning algorithms. You validate and cross-validate our recommendations to make sure our recommendations will perform well over time.
If you like to learn new things and apply innovative, state-of-the-art methodology, join us at Engagement Factory/Blend360!
This opportunity will be full-time and employees can work remotely.
This is why you get out of bed every morning
Work with practice leaders and clients to understand clients' business problems, industry context, data sources, potential risks, and constraints.
Problem-solving with practice leaders to translate the business program into a solvable Data Science problem, formulate different approaches, outline pros and cons for each approach.
Get client feedback and gain alignment on approaches, deliverables, and overall timeline.
Perform data cleaning/hygiene, data QC, and integrate data from both client internal and external data sources on Advanced Data Science Platform.
Conduct statistical and exploratory data analysis to establish baseline understandings.
Document key insights and findings.
Create insightful and/or predictive summary variables from granular-level data.
Develop, validate, and cross-validate predictive models and/or machine learning algorithms using Advanced Data Science techniques and tools.
Document predictive models/machine learning results that can be incorporated into client deliverables.
Evaluate and summarize key insights and actions the client could take. Quantify business impacts.
Assist client to turn models and algorithms into implementable production codes.
What you need to be successful
Master's degree in Data Science, Econometrics, Statistics, Math, or another related quantitative field.
At least 4+ years of experience in Advanced Data Science, such as predictive modeling, statistical analysis, machine learning, text mining, geospatial analytics, time series forecasting, and optimization.
Strong Python skills. Other languages such as R or Scala are also fantastic to have.
Proven ability to deploy machine learning models from the research environment (Jupyter Notebooks) to production via procedural or pipeline approaches.
Experience with SQL and relational databases, query authoring and tuning as well as working familiarity with a variety of databases.
Strong problem-solving skills; ability to pivot complex data to answer business questions. Proven ability to visualize data.
Good planning abilities in order to accurately make project timeline estimates.
Ability to show initiative and work independently with minimal direction.
Demonstrate a desire to remain current with industry technologies and standards.
Self-starter and strong interpersonal skills.
Good communication and coaching skills.
What is also nice to have
Comfortable with cloud-based platforms (AWS, Azure).
Good communication and presentation skills.
Experience with building Marketing Mix Models, or supply chain machine learning applications.
Experience with media data (platforms and customer data from either the media agency, technology, or brand side).
Understanding of ad technologies and how they are evolving in the new media landscape and the roles of different addressable tactics (TV, CRM, mobile, search, display, etc.).
Good appreciation for the Agile/Scrum methodology.
Your chance to have an impact and grow with us
Join a group of marketing, sales, and data science experts that love to push boundaries, challenge each other to get the best possible results, and have fun while doing that.
Nothing set in stone yet, plenty of room for new initiatives and ideas.
Enjoy an excellent base salary.
With a DNA that matches, we will jointly be able to drive both your and our clients' successes.